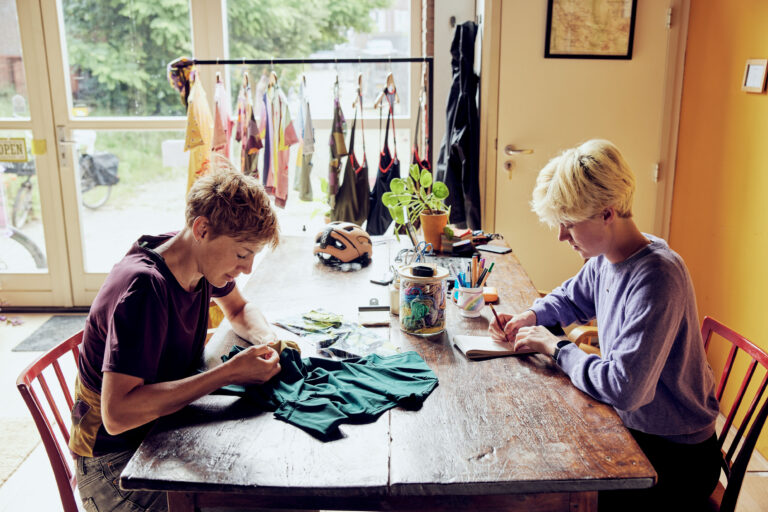 Design
Traevel Atelier x I R I S
A year ago I met Foskea Raevel, a bike crazy adventurer who creates the most amazing custom bike bags next to her work at Wageningen University and had just bravely taken the step to open her own workshop in Wageningen. 
When we met, I had recently started working on designing a new super small collection of technical t-shirts and I was brainstorming ideas on how I could expand the concept of the t-shirt made from deadstock with a matching bag. I approached Foskea with my ideas and she responded immediately with huge enthusiasm!
I went to Wageningen with a trunk full of ripped kites and leaky airbeds (this doesn't sound very pretty but believe me, they're all awesome colourful and durable materials). After an afternoon of sketching and browsing different fabrics together, Foskea started on the bag samples and I with the t-shirt creation.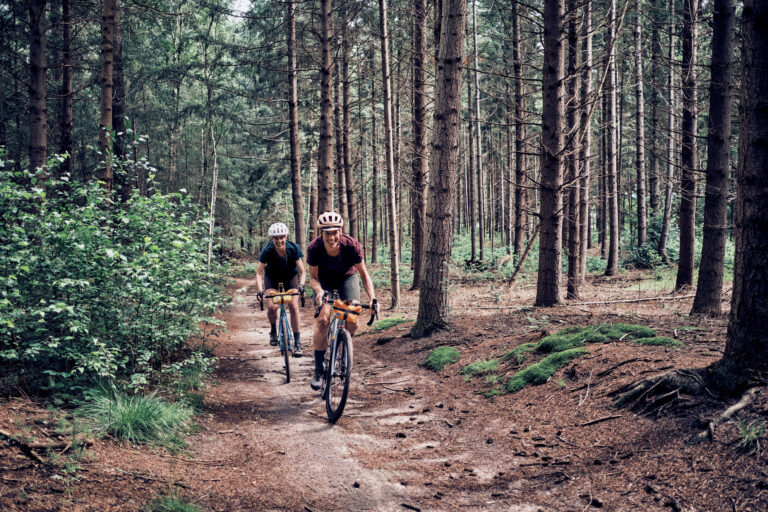 After a lot of testing and adapting, our work resulted in a capsule collection of 30 technical t-shirts with a large 'kangaroo pouch' pocket on the back. Each pouch also has a different patch made from colour samples from my previous jersey collections.
The collection of bar bags is constructed out of different materials* and the rolltop style bag makes all snacks, tools or extra layers easily accessible. The bar bag comes with a shoulder strap that converts the pack into a stylish over-the-shoulder- or hip bag so it's also super handy to wear when not on your bike.
"I really look up to how Iris goes for the fun part of things, even though all the while she's running a brilliant business. So I feel very lucky that she proposed this collaboration. It is the first time I run a series of bags and I am learning a lot from this. Also the fact that we are upcycling materials is a nice challenge. Iris had a great initiative and I'm really happy to be part of it!" – Foskea Raevel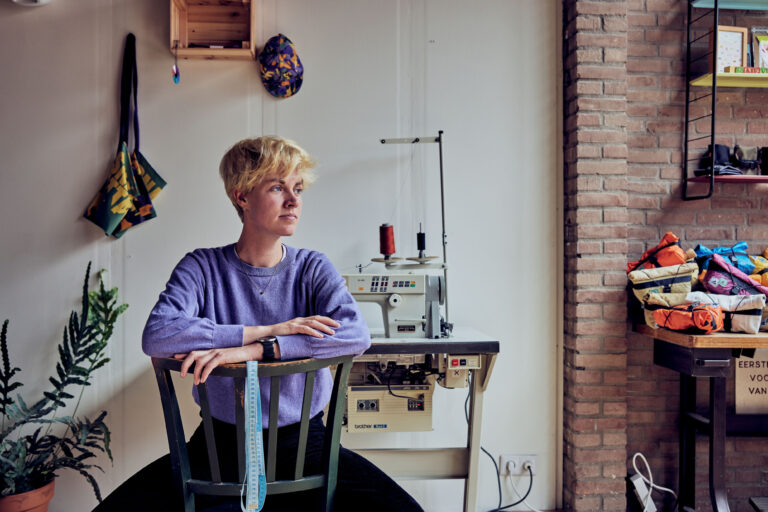 "It's been super fun to work with Foskea and to wear the shirt and bag on a ride together. Riding through the forest, playing around and enjoying nature, this is really what riding is all about and why this collection and collaboration fits so well!" Iris Slappendel