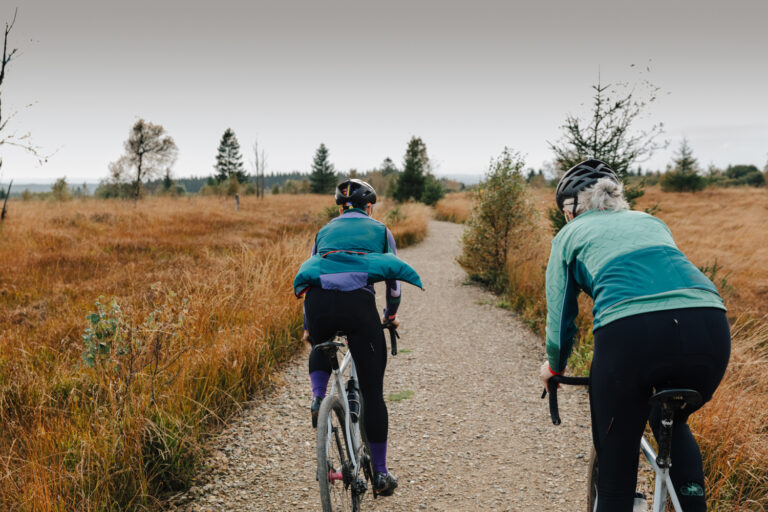 FW19 Women Cycling Collection
Haute Fagnes
I don't know what it is about Belgium. There's a certain rough edge to the whole country, and coming from such a polished place as the Netherlands, it's always a treat to spend time in places such as the Ardennes.
The Ardennes is one of those unique places where forestland, bog, plain, and farmland all work in harmony and flow in and out of each other in an otherwise wet and jagged landscape. And because Belgium is, well, Belgium, you can also find yourself in such a gem of a cottage like we had on our most recent trip, complete with Laura Ashleigh wallpaper and the most pink bathroom west of the Maas.
After a big breakfast, bike talk, and loading routes, we took off towards the first location with our photographer Maarten in tow. One of the beauties of Northern Europe is those odd fall days with perfectly tame weather between the often epic rain; we were lucky enough to have exactly that. A sort of unicorn… low light, dry, and cool.
Lac La Gileppe was our base camp for the day, while we tore up the road and paths around the nearly 150-year-old reservoir, taking in the sights, feeling the climbs, and slipping over the fallen leaves. This is the celebration that a new collection deserves; together with women who inspire me to design and push boundaries, hopefully inspiring others in the process.
This collection is created for you. Get out there, search out those forgotten places, create, and inspire.
Iris
Thanks to Quinda Verheul, Sanne Broeksma and Ria Soet for being such an inspiration. Special thanks to Maarten de Groot for capturing the fun and chasing us around on his bike with all his equipment.
Shop the full collection below!