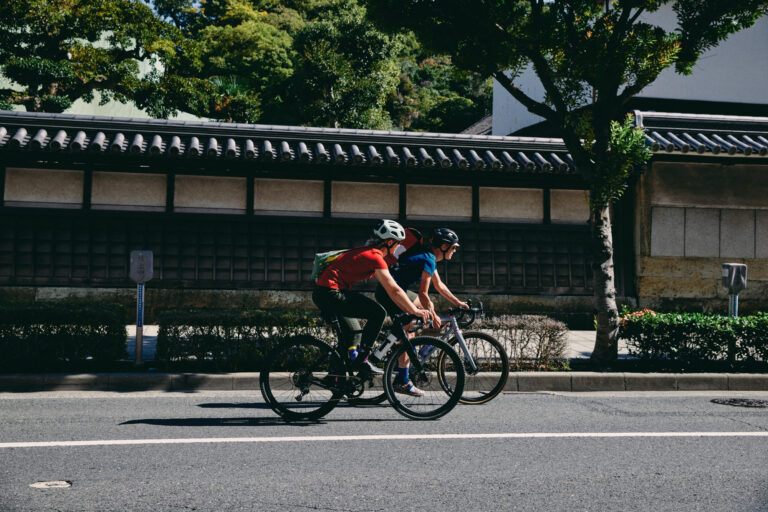 IRIS Escape Collection
Cycling Osaka
A maze of colourful alleyways to uncover the city's hidden gems.

We leave our quaint neighbourhood and weave our way through the maze of alleyways, some are very narrow, and some are a dead-end. We explore, in search of nothing in particular. It is quickly apparent that there are simply too many cafes and shops to choose from. When our tummies begin to rumble we stop at a local bakery that presents itself unassuming, and fill up on a variety of freshly baked buns and hot green tea.
As we continue to explore, we notice Osaka's streets are filled with every type of bike from foldies and minivelos, to the blinged out fixies, vintage bikes as well as the traditional roadie. The organised streets and well behaved drivers makes it an easy place to travel on two-wheels.
The city is a clash of old with new; an old vine draped wooden house juxtaposed with harsh concrete high-rise apartment blocks and a 7-11 on every corner.
Tiny streets draped with traditional red lanterns oozing delicious smells from the many 'street-style' food restaurants juxtaposed with the multi-floor karaoke, bowling and gaming entertainment arenas with flashing neon lights and ringing bells.
The historical red gates of the delicate and intricate Temple's with perfectly raked pebble courtyards that we tiptoe silently through juxtaposed with the famous colorful, animated billboards around the iconic Dotonbori Canal that pull crowds of people gathering to take a look.
Shop the full collection below!