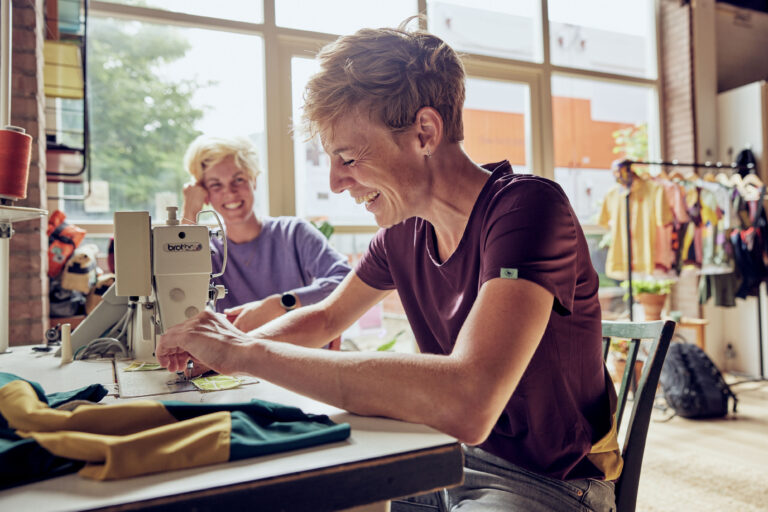 Behind the creation of the REVAMP Collection
One of the challenges of being a small independent brand is production volumes. You've been working on a nice design, developed a new item and made your prototypes. Proudly present it to a manufacturer and then BOOM… You have to make at least 300 items or more because of 'minimum order quantities'. MOQ is probably my most hated abbreviation. Every time it pops up in an email my heart sinks to my cycling shoes.
MOQ's are put in place by the manufacturers to balance operational efficiency and cost purposes, but they are a big hurdle for IRIS to experiment with new materials and designs or to make a limited number of products for a collection. MOQ's also results in many brands overproducing product lines resulting in big sales at the end of a season, or even destroying perfectly good products to make sure their products keep their value. Yes, these are only a few examples of how wrong the textile industry is in many ways.
Since starting IRIS I've been looking at ways of avoiding MOQ's and one solution I have found is by using deadstock fabric. Deadstock are the final scraps of left-over fabric that larger companies don't need, either because they've overestimated their needs or they are cut-offs from the product they created. This deadstock most often ends up in landfills.
And that's a real shame, as these are perfect pieces of virgin fabric. Instead of wasting resources and craftsmanship we buy this – sometimes only 30 meters – and use it for small collections and new products. In the past years we have been using them for our more technical t-shirts and merino base layers for example.
Check out the REVAMP collection made from deadstock materials:
Did you know?
At IRIS we create unique designs and carefully select our materials specifically for women and to lower the impact on the environment. We are constantly testing product design and materials to deliver the best product and have to contest with high-cost samples to get to the final design. For every new product we go through four to five rounds of samples and testing, and through different rounds of color samples on top of that. This is why it can be challenging for a small brand like us to add new products or extra sizes to our range, especially as we want every product to be the best – we need to go through all our rigorous steps of testing. After completing the CIRCO 'circular design for the cycling industry' course we are now currently in a product development stage to create a circular product but the initial investment to transform a concept into a design, source and test materials and make samples makes some processes much slower than we would like!
Additionally, as we work with collections, that means buying all materials specifically for the products you are making within your unique collection. On fabrics especially, you then have to order and work with a minimum amount of fabric (for example a minimum of 300 meters). That's a big investment for a small brand and you have to be able to make the complete payment upfront. IRIS is currently working on its 11th collection (Spring/Summer 2022) and although we've become pretty good at estimating how much we will sell (& therefore how much to order), it is still the most terrifying moment of the year to place a minimum production order and the accompanying payment that goes with it!
We cross our fingers and toes and hope that all goes well, that our community will love the new collection next year and investing a big part of this year's profit into the new collection will be a resounding success!