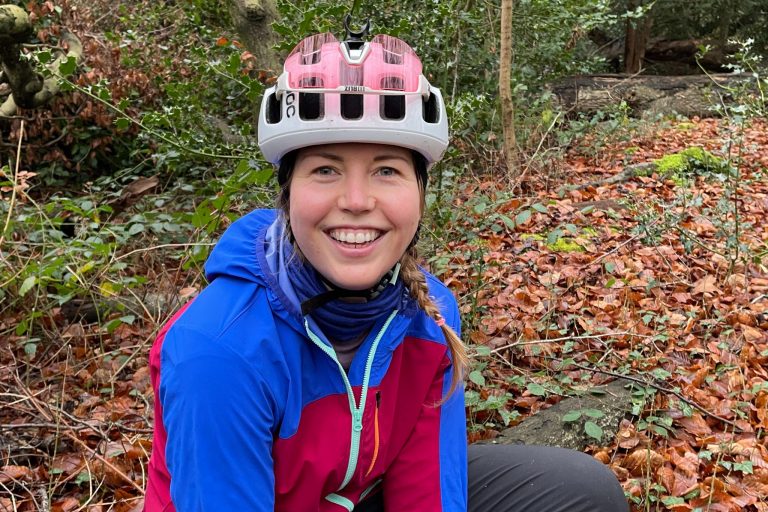 Introducing The School of Rocks Founder, Eleanor Jaskowska
Meet Eleanor Jaskowska, "a microambitious welsh lass living in Bristol" most commonly known by her ace Instagram Handle "@drthunderthighs" or as El.
El found her way into cycling through long-distance riding as a way to relax, but mainly procrastinate from writing her PhD thesis. Her love for long-distance has resulted in many 400km+ audax rides and a 'niche and obscure' achievement of riding Paris-Brest-Paris on a fixed gear bike!
When the UK went into lockdown, Eleanor Jaskowska decided to explore the local woodland trails in her backyard – inspired by some Komoot Routes from local friend Katherine Moore. Amazed at the dirt and gravel trails that were hiding just behind the road routes El has been riding for years, she spent lockdown practicing her skills and increasing her off-road riding confidence with tips from her partner.
El encouraged her female roadie friends to come and discover the trails with her but was frustrated with seeing them struggle to get to grips with off-road riding and she wanted to change that and 'The School of Rocks' concept was born.
El tested The School of Rocks concept on her friends in Bristol and was amazed, not only at the progress her friend's made week on week, but that she had created a rad community of shredders that centred on the experience of women learning and having fun together off-road on bikes.
IRIS decided to team up with Eleanor Jaskowska and enabled The School of Rocks to be scaled to 10 schools in its first term, (September 2021).
IRIS catches up with El to recap how the first term went and what's coming up for The School of Rocks.
For those that don't know, can you explain what The School of Rocks powered by IRIS is?
It's a woman-led community offering a toolkit to empower everyone to find joy in off-road cycling. All Schools run their rides once a week for six weeks to gradually build the participants skills, confidence and community. Riders learn and grow in a supportive environment with the ability to ask questions, observe other riders, session and repeat sections until they feel confident with the natural features.
The 'curriculum' aims to gently progress in difficulty with week 1 focussing on simply getting used to the feeling of gravel beneath you on some nice wide, smooth gravel sections. The next weeks introduce skills such as pump tracks, descending, logs, water, bunny hops, wild animals, care for the environment and the final 'GRAVduation ride' aims to bring all the skills together in one ride.
The School of Rock mantras are:
Routes not races
Community over competition
Trails not traffic
Progress over points
Snacks over stacks
If you want to find out a little more, check out this interview in CyclingTips.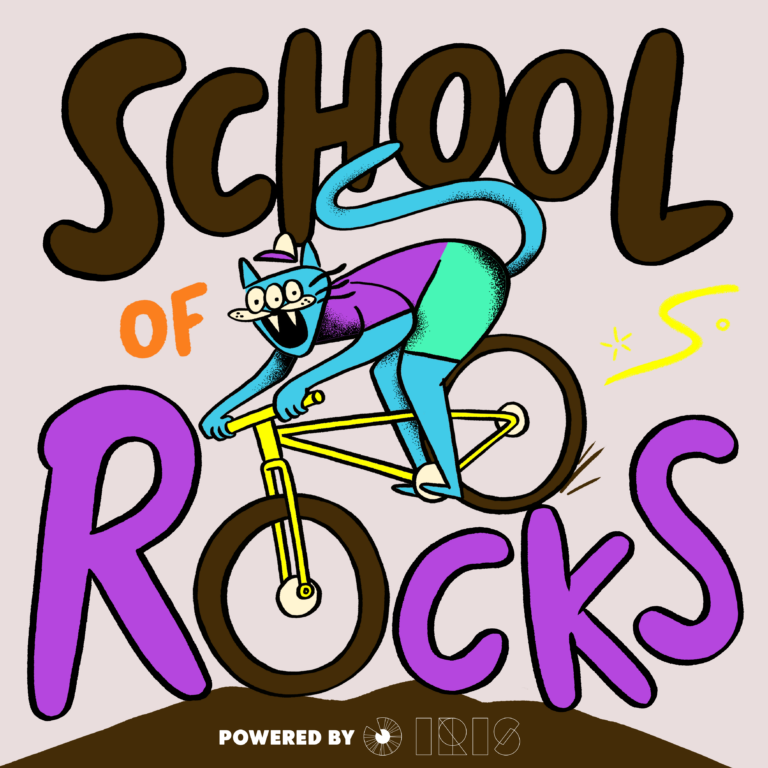 How many schools of Rocks are there?
We launched with 10 Schools; 9 in the UK and 1 in the Netherlands
Each local School has 1-2 Rockstars who plan the routes and facilitate the lesson. What's great is that the Rockstars are also there to learn and they encourage the participants to contribute their own knowledge and learnings to help each everyone grow together.
Below are the schools that ran in September/October 2021.
Bath – Claire Cottrell & Lizzie Robertson
Bristol – Eleanor Jaskowska
Cardiff – Jessica Notzing & Sophie Hughes
Clevedon – Lauren Holt
Edinburgh – Naomi Freireich & Helen Langridge
London – Helen McKenzie & Josie Lees
North Lakes – Jaimi Wilson
Oxford – Kat Young & Jo Lankester
Nottingham – Charlotte Hartwell
Dorchester – Laura Owler
Veluwe, Netherlands – Steven Barrow via INFMS.cc / Rosanne v Velthoven via @kalm.aan.cc
When does the next term start?
The next term is planned for March/April 2022, when there is a little more day light! If anyone would like to be a Rockstar and set up a local School of Rocks in their area they can email me at hello@theschoolofrocks.com
Even if you're not sure or don't feel like you have all the skills or available time drop us an email because we're always connecting people to build teams to lead schools together!
We also welcome new schools in any country – we want to go global with The School of Rocks!
Why did you feel there was a need for creating this off-road gravel community?
I remember how difficult it was for me to find flow and confidence riding off road. I was really lucky that my partner was very knowledgeable and patient but not everyone has someone who is able to guide and coach them. It made me realise one of the reasons why the pace of change with women in off road riding has been so slow that we've got this linear growth. What if one friend or community member could help level up 6 riders, and those 6 riders go on to help level up 20…. suddenly BOOM!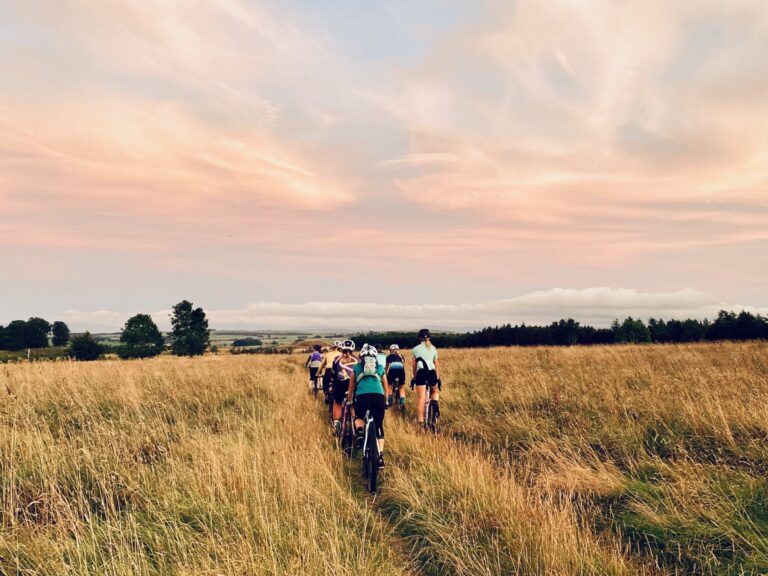 How did you get the confidence to step off the road and onto the trail? What advice would you give women who want to ride off-road?
Make it fun! I didn't realise how much pressure I would put on myself when I first started. Either taking on too much tech or assuming I could cover similar distances to what I would on a road ride. I think that's why I had such a breakthrough in lockdown because I wasn't trying to go far, I was just exploring and having fun. That's why with School of Rocks we build up the technical elements slowly. So you learn and grow but you don't necessarily notice it or feel intimidated because you're having fun in a welcoming and non judgemental atmosphere.
Describe your off-road riding style in 3 words.
Trial and error
What has been your most memorable experiences on two wheels?
Two wheels have generally been a really great tool for me in managing my anxiety. In general I'm an over-thinker and riding a bike I get to exercise my I don't know muscles. I don't know what will happen going down a descent but I can prepare by getting my body into the right position, checking out a feature before riding it. The worst case scenario is I'm not comfortable, I can stop and walk. Ok, or maybe I crash but also 9 times out of 10 it isn't as bad as I think it might be! It helps me reinforce that my negative thinking isn't helpful and I learn to turn down the volume on the voice in my head.
In terms of memorable experiences. I have met so many amazing people from my friends to my partner. Two wheels has given me community. That's probably why I'm so keen to give back because especially after leaving university and moving to a new city it helped me rebuild my life.
Have you got any off-road trips/events in the future planned?
I'm going to be racing the Highland Trail 550 in Scotland in May. It's a really challenging MTB long distance event through the Scottish Highlands. There are open landscapes like nothing else in the UK, I toured part of the route last year and it was so breathtaking and humbling to ride through. There are also some big rocks and technical descents that I'm intimidated by!
Then for some fun my partner and I are planning a week long tour later in Summer. We're hoping to go on a longer tour through South America next year so this will be a bit of a gear test for bigger expeditions. We're thinking Georgia for somewhere with landscapes and culture that are totally new to us. I've heard the food there is also excellent!
What do you love about IRIS cycling apparel?
Where do I start. I love that by wearing IRIS I feel like an activist for women's cycling because of all the amazing things the brand and the founder work for. I love that the colours are feminine without being pink and girly. The palettes look lovely and really compliment the colours of our nature and landscapes. I've been wearing the (wo)mangold long sleeve and it just brings a smile to my face. I feel great wearing it and I think all cycling kit should make you feel fabulous!