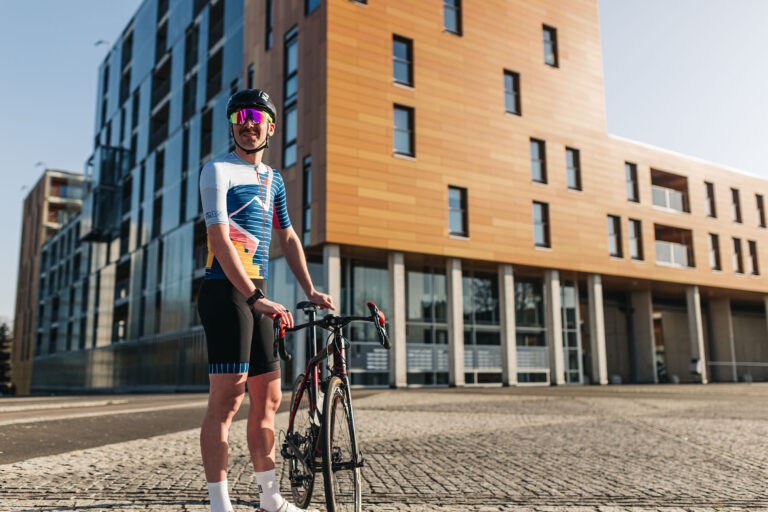 design
KAMU x I R I S Custom
You may have noticed we love to collaborate! Especially with like-minded artists, designers, other cycling brands, or in this case; an entrepreneur with coffee-making-skills and a big love for 'the bike'.
Besides developing our own collections, we also do custom designs and the latest collaboration with Kamu is a great example of how collaboration can lead to something beautiful; we mixed the IRIS style with some Kamu flavor and are both super excited about the result. What do you think?
Ralf, bike mechanic, coffee maker and owner of Kamu, gave us carte blanche for the design except for some of their signature colors. The result is a colourful kit where we've played with lines, logo's and colours. This unisex jersey is to match with a men's and women's specific bib short.
Kamu is a café and bike shop in de Boschstraat in Breda (the Netherlands, obviously!). It has that kind of living room atmosphere where you could just hang out all day, enjoying some good coffee and snacks, while pretending to do some work behind your laptop
At Kamu, they love everything about bikes, riding, racing or bike-packing. There's a nice shop area with some cool brands, loads of funky caps and a pretty good assortment of gravel-, race- and city bikes. There's also a workshop in case you need a fix or maintenance. Not to forget KAMU regularly organize cool events and workshops.
Why a collaboration with I R I S? "Iris' got her own cool and particular style. And she's a fun person to be around!" (Not to be immodest, just quoting Ralf from Kamu).
"Custom designs are something special. You want the design to fit your clients' identity, you want to show your own signature and you want to create something that is accessible and attractive for their customers. To me, the Kamu design doesn't feel like a compromise at all and that's when I know it's a good design." Iris Slappendel
Contact Kamu here to buy the kit, or visit them in Breda.
If you're interested in a custom project, please contact us.