As our cycling clothing gets more advanced, the art of layering becomes a little easier. Of course, the way clothing is layered depends on the temperature, and it's a bit of an art form. Too much clothing and you'll sweat only to have that sweat cool down leaving you basically coated in icey fluids. Too little clothing and…well…, you're cold. This autumn we dropped a bunch of new winter kit , so here's a little guide on how each piece can be used to its best.
Shoulder Season (10-18 degrees Celsius)
When the days grow shorter and the weather becomes unpredictable, versatility is key. The air starts to be cooler, but when the sun peeks through, it can still be comfortably warm. Key is to add lightweight, removable pieces to your warm-weather kit instead of immediately switching your whole summer wardrobe for winter gear.
Starting points are bib shorts and a short sleeve jersey. Add our arm- and leg warmers and the Flyer vest to make layering up or down a breeze. The short sleeve and arm warmer combo can of course be replaced by a long sleeve jersey if you run a little cold, that's up to you!
Early Winter (5-15 degrees Celsius)
When the temp comes down a little bit more, it's time to change up the layering system. We've got you covered with the Long Sleeve jerseys, wind vest, light winter tights, Merino neck warmer and a cap. Perfect for Autumn and Spring riding, and even those random warmer days in the winter, our Long Sleeve Jerseys are incredibly soft on the inside while keeping the chill off. When it's just a little colder and sure to warm up later you throw on the Just In Case vest (guess how we came up with that name ;-)) or the insulated padded vest when it's colder. Both perfectly fit in a back pocket, and add that extra warmth for your core you need when you roll out the door. Throw on a cap to keep your head warm and the merino neck warmer to prevent wind flowing down your collar and you're all set to go! And don't forget those colourful socks to really finish your whole look.
Deep Winter (5 degrees Celsius and colder)
For days when you're questioning why you decided to ride in the first place, when it's roughly 5 degrees Celcius or below, we made your life a little easier with the Signature Winter bib Tight and Women's Winter Jacket. This is the perfect jacket for winter riding, as it takes away the need for too many layers, with the quilted front panel, keeping the part of you that hits the cold extra warm, that's now available in three colourways (Kôyo, Spinosa and Ditch). All you really need to wear under the Winter Jacket is a long sleeve base layer. Our Signature Winter Bib Tight keeps your bottom half warm and working, while not restricting your legs from doing all the watts. These bib tights are warm plus breathable, and have a DWR coating which means you'll stay dry in light rain and in those nasty winter puddles! In these temps you don't want to forget the proper accessories for winter riding. So add the Merino Neck Warmer, Merino socks and a colourful cap, for some extra flare. With these pieces you are going to be warm no matter the conditions. Actually, did you know that the best way to stay warm is to cover your head? For this reason, a cap is a must for riding in the winter.
Our brand new Women's Escape Pullover is a technical mid layer made from Pontetorto Tecnowool. It combines the properties of both natural wool and synthetic fibres to create a warm, highly breathable, durable and fast-drying layer. The fabric has a technical 'waffle' knit to create a textured effect that adds warmth while ensuring that the jersey is still lightweight and fully breathable. This makes the Escape Pullover ideal to wear as an outer layer in early winter and spring or for the warmer days of winter. In colder conditions like deep winter you wear it as a mid layer in combination with a wind vest or our padded vest. It's also great to throw it on for any other outdoor (or indoor) activity.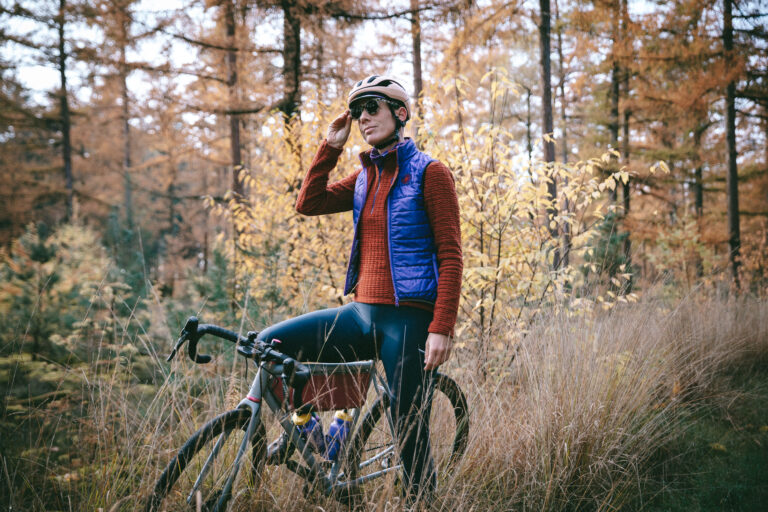 Wet Winter
Uhmmm. Are you sure you want to ride in these conditions? If you do insist, wear the Signature Winter bib tight and combine it with a long sleeve jersey or the Escape Pullover with the Escape Weatherproof Jacket on top. We need to manage expectations here, as this combination won't keep you dry during a long day of pouring rain (for those conditions look for a Gore-tex or similar style product) as breathability is not a good match with complete waterproofness. But this set will keep you comfy on a grayish, humid, drizzly, muddy day on the bike…. which is still better than staying inside of course.
We hope this cheat sheet helps you with your cold weather and winter layering! Use it as a guideline and experiment as there are no rules here. And know that we design our kit so each new collection and items can be mixed and matched with previous collections to ensure no item becomes redundant and you can wear it season after season.
Shop all the layers below!