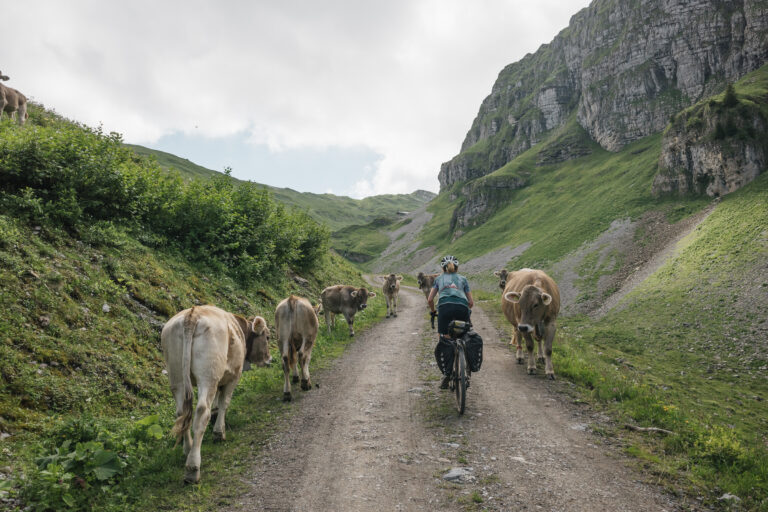 INSPIRATION
Emma Pooley -
IRIS Ambassador
Emma Pooley is an ex-pro British road cyclist who after living in Switzerland for 16 years is now naturalised Swiss! Emma speaks five (yes you read 5!) languages and spends her free time going on mountainous, snack-filled adventures whilst balancing studying medicine to become a dentist.
IRIS catches up with Emma Pooley to find out more about how she accidentally became a professional cyclist and how she's used her platform to create positive change in the world of cycling and inspire women to try off-road adventures.
Hi Emma! So, you weren't always a cyclist, what was your journey into the sport?
I started running as a kid around when I was 11, and just loved it. Sure, I did some cross country and track races but simply running daily was my true love. At university I stepped up my training and got injured with a stress fracture, so I borrowed a road bike for some cross training – but I didn't really like it! I had the cheapest clothing and shoes I could find, and the bike was way too big for me meaning I was cold and uncomfortable.
Some friends encouraged me to try triathlon and then time trialling, and in the end I got a bike that fitted me (not an easy task as a 157cm-high person; back then there weren't so many options for smaller bike builds). There were a few friends in the Cambridge Cycling Club who really encouraged and helped me with equipment choices and learning bike  handling skills. It's a confusing sport for a newcomer, and not easy for a student (or anyone with a relatively low income) to get started because cycling apparel and equipment is so expensive. To be honest, I only stuck at cycling because it was fun to ride (and stop at cafés) with my friends in the club.
Just before moving to Switzerland to do a PhD at ETH Zürich, I did my first road races and came 4th at the British National Championship. But in a new country with a full time job, it took me a while to find my feet in terms of training – plus my first experiences of racing in Holland and Belgium with a UCI team were super stressful: I didn't have the skills for those big bunches. I quit racing in favour of work and enjoying sports again. It was only thanks to my PhD supervisor Sarah Springman (an incredible sportswoman) who made it possible to work part-time and encouraged me to train and race, that I was able to try cycling again. I found a wonderful little Swiss-based team who gave me great race opportunities, a supportive environment with encouraging team staff and teammates at races, and that's when I first started getting good results and finding my hill-climbing strength.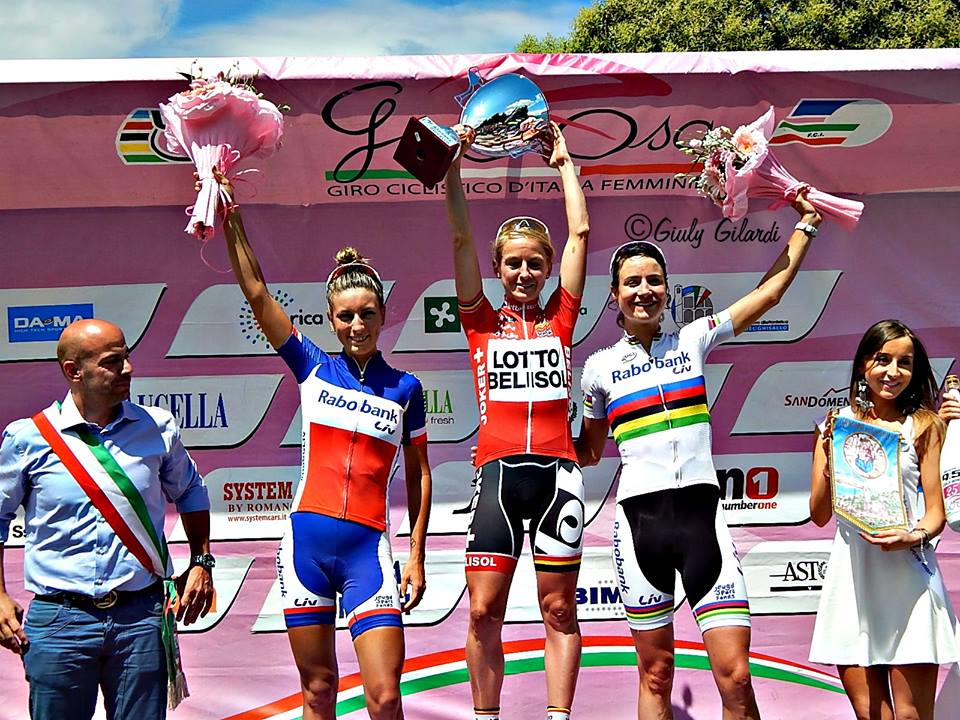 Emma Pooley (Great Britain) pictured centre at 2014 Giro d'Italia Femminile winning Stage 9 beating Marianne Vos and Pauline Ferrand-Prévot. Pooley was the eventual winner of the Mountains Classification racing for team Lotto–Belisol Ladies. 
I was still really bad at the skills needed to survive a bike race though – cornering and descending became a phobia for me after several crashes. I was lucky that my coach Tim Williams of Perfect Condition Coaching was so patient and good at teaching the skills I needed. He really saved my cycling career! I never got good at riding in big pelotons (Iris will remember how much work it used to take to keep me at the front!) but I improved enough to survive most races. It took years of working to help teammates to win (which was great, I learned so much from them) to get to the level where I could sometimes be a team leader myself.
"In 2010 we had a great team at Cervélo (Iris was there too!) and after a fantastic season where we won so much, I was lucky enough to have a great day at the World Championships in Geelong and win the time trial. That was a highlight of course, but so were some other races where I didn't do so well – the great thing about cycling is that as a team sport, you can really contribute to a result for someone else and that's so satisfying. It helps build and cement deep friendships that really last. I have so many happy memories from those days and the amazing women I'm privileged to have raced with, or against."
After retiring from pro-cycling, how did you get the confidence to step off the road and onto the trails, exploring the mountains? What advice would you give women who want to go off-road?
Racing in road cycling at the level I did was a bit of an accident for me – I never thought I'd be that good at a sport and I didn't cycle much as a kid apart from to school and back! Although I came to love cycling, I enjoyed training more than racing and the most fun training for me was long rides in the mountains. The more adventurous and the more mountainous, the better! I think that's because that kind of cycling felt more like trail running and mountain sports, which is where my heart really lies. I was always desperate to go for a run at the end of every road season! That's one of the reasons I got into triathlon and duathlon after I retired from professional cycling.
Getting my Sonder Camino Gravel Bike in 2019 to ride trails and explore away from roads seemed like an obvious step: I wanted to travel by bike, explore by bike, have adventures by bike. It took me about a year to research and order the frame and build I wanted but it was worth the wait! I've had so many wonderful adventures on that bike…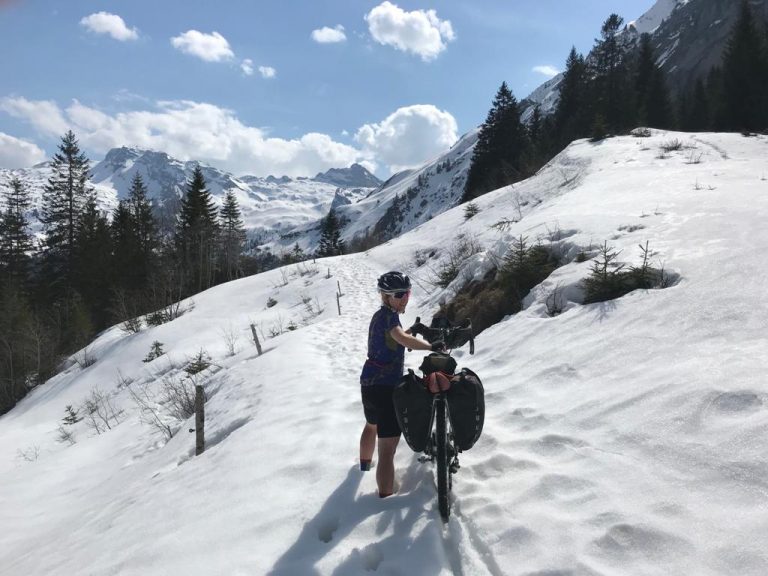 As a bonus, bikepacking feels a lot like trail running to me! Both in the scenery and in the mindset and attitude of the community: super welcoming, accepting of everyone whatever their level, and with a strong drive towards appreciating and protecting the beautiful environment which makes the sport fun.
I have to say that initially I was nervous about trying to ride off-road, since I didn't have any mountain biking skills (and I struggled already to learn road biking skills!). Some friends who encouraged me early on to just have a go were right (thank you Katherine Moore!). The thing is, there's plenty of easy off-road riding to get started on and build up skills and confidence gradually. Try it without putting yourself under pressure to go fast or do anything dangerous, and gradually push your limits. Learning new things is fun and incredibly rewarding – it made me feel so much stronger, and proud of myself, to try things that scared me and realise I am capable of more than I thought.
My main advice would be to ride with friends (way more fun!) and / or a club or group who can help you learn skills in a safe environment. I've done a few MTB skills courses with my local club and it helped so much for basic skills and confidence. If you can find one near you, the School Of Rocks is a brilliant place to go for learning off-road skills with fun company.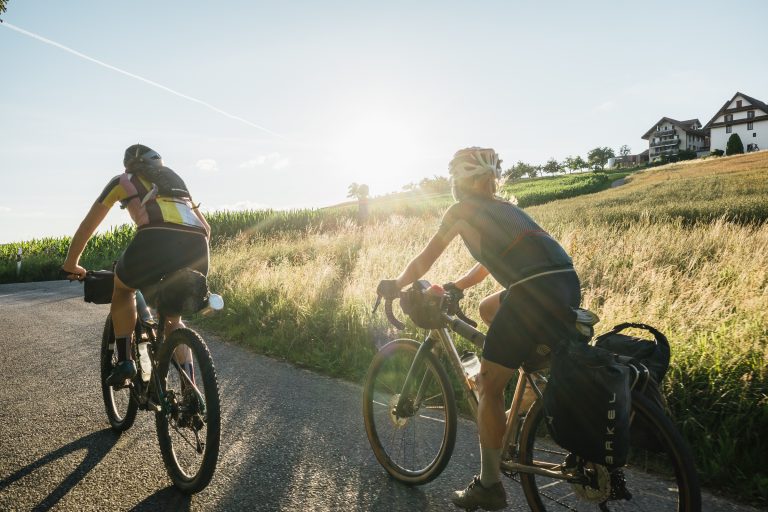 What the most memorable and meaningful experiences cycling has given you?
Learning about the work of World Bicycle Relief was an eye-opener for me: after so many years immersed in the insular and self-centred domain of professional road cycling it seems so very worthwhile to help empower people with the power of bicycles. Contributing to World Bicycle Relief's messaging and trying to help that cause was the most meaningful thing I've done in cycling.
What does participating in events like bikepacking challenges and ultra running races  mean to you and why do you think women should give them a try?
I don't think I love competing any more for the sake of competition against others: that can be fun and it's obviously a vitally important part of women's sport (girls should be able to see competitive role models just like boys do!). However, there's something about longer and wilder competitions such as bikepacking / ultracycling, and ultrarunning, that really draws me. Partly it's the adventure and the beauty of the surroundings, which I find both thrilling and calming. Partly it's the meditative state I sometimes find in longer rides and runs.
I did my first >100km race earlier this year, at the Ultra Trail de Monte Rosa; running that distance has been a goal for a while for me and despite poor preparation due to injuries and lack of time, I enjoyed it so much. It was a beautiful experience, both internally and externally. I deeply appreciated the mountains around me, but as well as that I felt so grateful to my body for cooperating with me for what was – realistically – a really stupid idea! It really hurt, a lot of the time, and yet I could keep putting one foot in front of another, and keep enjoying it, despite the discomfort.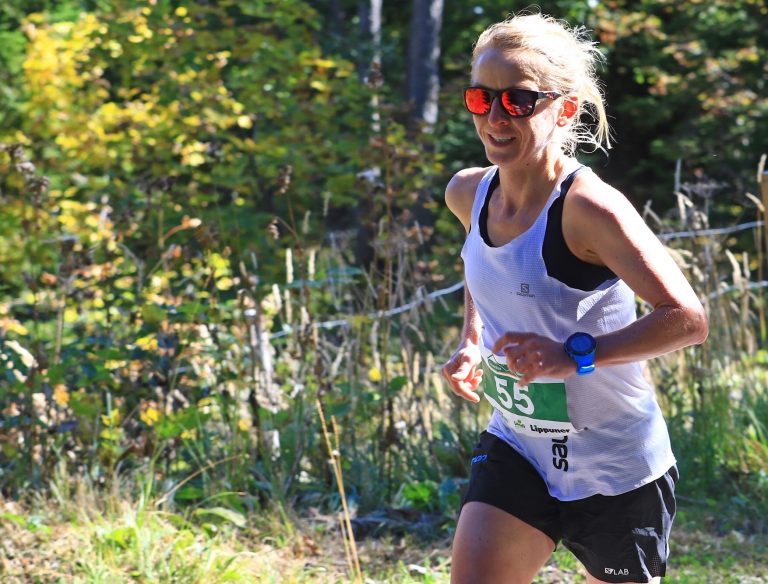 Rising to that challenge makes me feel stronger and more empowered, it helps me have confidence in myself, and that's better than any medal
So I suppose, I also love those events because in a way I'm competing with myself – or maybe I'd better say challenging myself. I find a deep and meaningful satisfaction comes from taking on something difficult or tough, and coping with it. It's not about training hard enough for it to feel easy – the whole point is, that it should be hard, and that's what's fun. In those long events the challenge is as much mental as physical.
It's also something anyone can "win" in a trail race or gravel event, no matter how long or short: just find something that is a challenge for you, that pushes your limits.
You've been outspoken on greater gender parity in cycling, and you were one of the initiators of the "Le Tour Entier" pressure group, which campaigned for a women's race at the Tour de France. How do you feel about the creation of Tour De France Femmes avec Zwift and the potential impact it could have on grassroots participation?
It's great this is finally happening.
I strongly believe women and men should get the same opportunities to compete in cycling, at all levels. The Tour de France is not my favourite bike race for many reasons BUT it does get huge amounts of media coverage and that means that a women's race will be seen by a huge audience. The men's race inspires many people to ride their bikes for fun, and it's important for female role models to also be seen on that great stage to also inspire grassroots participation. Plus I think the women's race will be really exciting and make for great viewing!
You're well known for your homemade oatmeal-based bike snacks. What's your favourite oaty bike snack?
Good question! I created a lot of different recipes and most of them turned out pretty tasty; which is favourite depends on what snacking mood I'm in at the time… But probably the two GOAT oat snacks (according to my friends) are the carrot cake poffins (= porridge muffins) and the apple tatin tartlets. It's surprising how sweet and cake-like they taste even though they're mostly oatmeal and contain little or no sugar, and they make great biking snacks because they're tasty and substantial in that wonderfully wholesome oatmeal way.
And would you be willing to share your favourite recipe with the IRIS Community for a future blog post?
Yes of course! Stay tuned 😉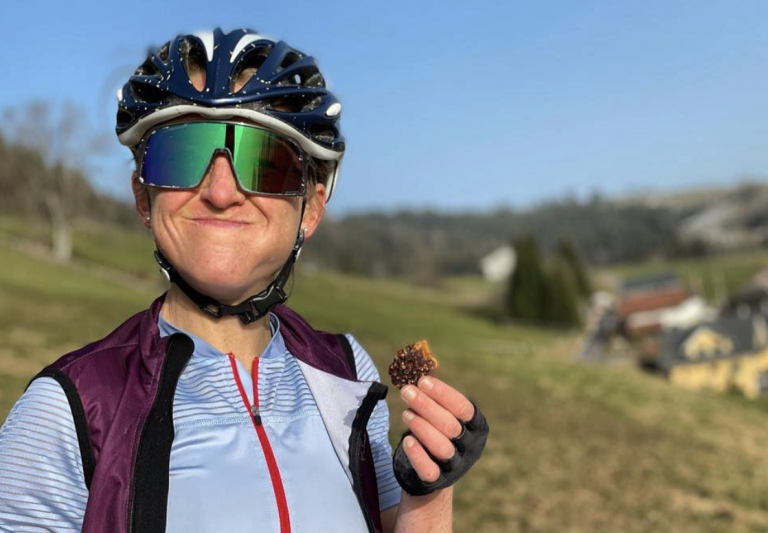 What do you love about IRIS cycling apparel?
Everything! But the things I love best are the bib shorts: the cut is so comfortable, the padded insert is so well placed, the straps have the perfect fast-escape magnet clip for comfort breaks… overall by far the best cycling shorts I've ever worn. And maybe in a tie for most-loved IRIS feature is the general coolness and fun of the jersey designs. I'm a bit cautious and if I didn't know Iris I'm sure I would be wearing plain blue or black jerseys. I love the bright colourfulness of the IRIS designs, and the stories behind them, and how cool I feel wearing them!
Follow Emma Pooley
emmapooley.net
instagram.com/pooleyemma
komoot.com/user/561595055122